The first article I copied below I previously put up on the preceding thread. Due to the significance of this lawsuit I decided I would put up it again in its own post. I also included a second article that follows the first. That one is reprinted from the Huffington Post.
Vergara vs. California is the most significant lawsuit to date to address the issue of teacher protectionism and the Constitutional rights of children to receive a public education. A group of us will be meeting with a representative of the plaintiff to give accounts of how ineffective teachers have harmed the education of our own children. If anyone is interested in attending this meeting please email me at sfedblog@gmail.com. The meeting takes place next Monday evening so don't delay. It is imperative that we support this lawsuit for the benefit of our children and to help teachers out from under the shackles of their own failed union leadership.
Make no mistake about it, this is a major piece of litigation that will either dilute the protections of the teachers' unions and protect and empower students. or will enshrine teacher protections. It will either dislodge the status quo protections of teachers or, conversely, go another step further in making them ironclad. However, should the plaintiffs ultimately lose it will likely end up on the California ballot. Currently, polling suggests that such a proposition would easily win. So if the case loses in LA and eventually on appeal in the appellate court and the California Supreme Court, a successful ballot initiative could propel it to the USSC. That would be something the unions would like to avoid at all costs.
First Artcile
Los Angeles, CA
– Yesterday afternoon, the nonprofit group Students Matter (www.studentsmatter.org) sponsored a groundbreaking lawsuit against the State of California and the California Department of Education to strike down outdated state laws that prevent the recruitment, support and retention of effective teachers. The lawsuit focuses on improving overall teacher effectiveness because of the critical role teachers play in their students' lifetime achievement.
The lawsuit asks the court to strike down state statutes related to the guarantee of permanent employment after only minimal and cursory reviews; bureaucratic procedures that make it prohibitively expensive and time
‐
consuming to dismiss ineffective teachers; and Last
‐
In First
‐
Out (LIFO) seniority
‐
based layoffs that ignore teacher effectiveness. Unlike many previous education lawsuits brought against the state, the lawsuit sponsored by Students Matter would impact all school districts throughout California.
Students Matter consulted with a range of education experts and organizations in the development of the lawsuit to determine how to best bring about improvement in student achievement, and has formed an Advisory Committee which includes Alliance for a Better Community, Students for Education Reform, Democrats for Education Reform, Parent Revolution, Students First, The Education Trust
‐
West and New Schools Venture Fund (partial list).
Theodore J. Boutrous and Theodore B. Olson, two of the lead attorneys who are fighting to overturn Proposition 8 in federal court on behalf of the American Foundation for Equal Rights, head up the Students Matter legal team.
"These state laws create inequalities by depriving students taught by ineffective teachers of the fundamental right to education guaranteed by the state constitution, and they have a disproportionately negative effect on low
‐
income and minority students, " said Mr. Boutrous. "The statutes prevent school administrators from prioritizing or even considering the interests of their students when making employment and dismissal decisions. The number of grossly ineffective teachers is small, but their impact on students is enormous."
Studies show that teachers have the greatest impact on students' lifetime achievement. Students taught by effective teachers are more likely to attend college, attend higher
‐
ranked colleges, earn higher salaries, reside in higher quality neighborhoods, and save for retirement. According to one of the nation's foremost economists, teachers near the top of the quality distribution can get an entire year's worth of additional learning out of their students compared to those near the bottom.
Students taught by grossly ineffective teachers suffer lifelong problems and fail to recover from this disadvantage. One recent study found that a student who is taught by a single ineffective teacher remains "stuck below grade level" for years to come. Another recent study found that replacing a grossly ineffective teacher with even an average teacher would increase students' cumulative lifetime income by a total of $1.4 million per classroom taught by that teacher. (See
http://studentsmatter.org/resources/
)
"The mission of Students Matter is to help improve student achievement in California by enhancing the overall teaching environment," said Students Matter founder Dave Welch. "We are challenging a system that was fashioned by special interests and has burdened our schools with an inflexible environment for hiring and retaining the best teachers. This system is not designed to benefit students, and that's unacceptable."
The lawsuit also names the Los Angeles Unified School District (LAUSD) and the Alum Rock Union School District as defendants in the claim. Recent reports estimate that in the Los Angeles Unified School District alone, there are approximately 1,000 or more teachers who are grossly ineffective; these teachers are responsible for teaching on average 30,000 or more students annually. In a recent survey, 68 percent of teachers reported that there are grossly ineffective tenured teachers currently working in their schools who should be dismissed for poor performance.
High poverty schools serving predominantly Latino and African
‐
American students often have a disproportionate share of the least effective teachers. A recent study of the LAUSD found that a low
‐
income student is more than twice as likely to have a low value
‐
added English Language Arts teacher as a higher income peer, and 66 percent more likely to have a low
‐
value added math teacher.
"Achievement gaps will persist unless we can reform an educational system that results in our highest need students often being taught by the least effective teachers," said Arun Ramanathan, Executive Director of The Education Trust
‐
West. "ETW strongly supports the efforts of the plaintiffs in this suit to challenge and fix the state laws that allow these inequities to persist."
Students Matter is committed to ensuring that all of California's children receive a quality education. Numerous studies show that teachers have the greatest impact on student achievement. Teacher effectiveness has more impact on student achievement than class size, education spending, teacher pay, or student demographics/background. Students Matter is filing a lawsuit to dismantle the outdated and unsuccessful laws that prevent the recruitment, support and retention of the most effective teachers, so that all our children can have access to a quality education. For more information, please go to studentsmatter.org.
SECOND ARTICLE
Firing Teachers: Students Matter, Silicon Valley Nonprofit, Files Lawsuit Challenging California Teacher Protection Laws
Earlier this year, the Sacramento-based nonprofit EdVoice
brought suit against Los Angeles Unified
over the pro forma way it conducts teacher evaluations. But here, the suit isn't seeking to overturn the Stull Act, which defines how evaluations are done; it says that the district (along with nearly every other one) has chosen to ignore the law's requirement that student performance be included in teacher evaluations.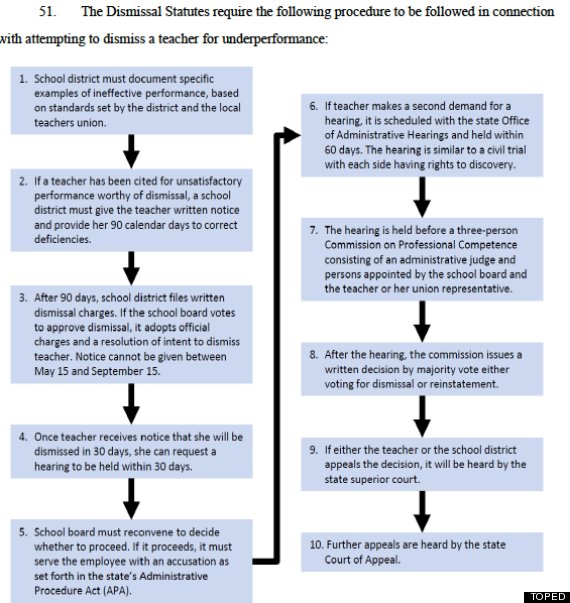 There's no shortage of critics of the tenure, dismissal, and layoff laws, which teachers unions have lobbied hard to preserve. California is one of few states that have not lengthened the probationary period for teachers. More than two dozen states have strengthened their evaluation systems in the past several years. California's dismissal law, with its 10-step process laden with due process, can cost districts hundreds of thousands of dollars to fire a teacher on the grounds of unsatisfactory performance, which is why districts often work around it by paying teachers to retire or pushing them from one school to another.

Persuading a judge that the practical problems and the effects of the laws rise to the level of a constitutional violation is another matter. (In an analogous case, California is among the nation's bottom spenders on K-12 education; it has tough standards and a challenging student population. But attorneys last year failed to convince a Superior Court judge in Robles-Wong v. California and Campaign for Quality Education v. California that adequate education funding is a constitutional right.)

TOUGH BURDEN OF PROOF

The tenure law may be particularly challenging. As the suit points out, something like 98 percent of probationary teachers have gotten tenure. The two-year probationary period (actually 18 months, since teachers must be notified by March of their second year) is not long enough. Too often evaluations have been slapdash. But the law itself doesn't require a district even to cite a cause in denying tenure; the power of dismissal lies with the employer.
Students named in the lawsuit are from Los Angles Unified, Pasadena Unified, Sequoia Union High School District, and Alum Rock Union Elementary District, although only Los Angeles Unified and Alum Rock, which serves 11,000 students in San Jose, are specifically cited as defendants, along with Gov. Brown, Superintendent of Public Instruction Tom Torlakson, the State Board of Education, the state, and the State Department of Education.
The only specific reference to Alum Rock was in the identification of plaintiff Daniella Martinez, 10, whom the lawsuit says chose to transfer to a public charter school because "of the substantial risk that she would be assigned to a grossly ineffective teacher who impedes her equal access to the opportunity to receive a meaningful education." The initial filing doesn't cite evidence of specific teachers who negatively affected Daniella or the other seven defendants. It refers to studies by such groups as the National Council On Teacher Quality, which issued a
blunt assessment
of the tenure and dismissal practices of Los Angeles Unified, and on research by Hoover Institution author
Eric Hanushek
, who concludes that just by dismissing 6 to 10 percent of weakest teachers, students' academic achievement and long-term earnings as adults would increase significantly.

Los Angeles, as the state's largest district, may have been named as a defendant because its superintendent, John Deasy, has been outspoken about the need to change labor laws. United Teachers Los Angeles has also sued over a comprehensive teacher evaluation system that Deasy has put in place.

Deasy would appear to be a friendly witness for the plaintiffs. In a statement, he said he supports lengthening the probationary period, quickening the dismissal process, and reforming the state's layoff law. "To my dismay, we have lost thousands of our best and hardest-working classroom instructors through the last hired, first fired rule. When forced to reduce our teaching staff through budget cuts, we are compelled through state law and union rules to base these difficult decisions primarily on seniority," Deasy said.
But when questioned, Deasy will be pressed to acknow
ledge that it may not be the laws but the implementation that counts. Since joining the district, first as deputy superintendent, then superintendent, Deasy has pushed administrators to apply more scrutiny in granting tenure and more perseverance in dismissing bad teachers. Last year the district terminated 853 teachers. Furthermore, the number of probationary teachers denied tenure rose significantly last year: from 89 in 2009-10 (10 percent of those eligible) to 120 teachers in their first year and 30 in their second year. Other superintendents would agree that well-trained, persistent principals can document the case for teacher dismissals, notwithstanding cumbersome, excessively burdensome requirements.